Our Point of Difference
Through a strong commitment to add value to our franchise partners, C8 is changing the traditional approach on retail food franchising by offering an exciting revolution throughout its system.
We have expanded our core franchise offers and carefully developed a unique co-branded franchise model that provides an additional food choice and expertly leverages the existing kitchen space, equipment, food pantry items and labour costs to increase customer counts, sales and profits.   
At C8, we pride ourselves on delivering our franchise network world class support, and as our company name suggests we offer "Eight" specialist support services across the following functions:
Operations
Marketing
Training
Restaurant Design & Construction
Finance
Legal
Supply Chain
Network Development
Sharpe focus on innovation, powerhouse brands and mouth-watering food are only a few elements that make C8 successful. For us, finding like-minded people who share our passion and vision are the key ingredient to our future success. To join our network of successful franchise partners, you must contain the following essential qualities:
Passionate positive attitude
Ingrained obsession of great food
Customer centric in delivering service excellence
Natural team leader and motivator
Possess excellent communication skills
Infectious high level of energy and enthusiasm
Hunger for continuous learning and development
Strong desire for success at every level
The Journey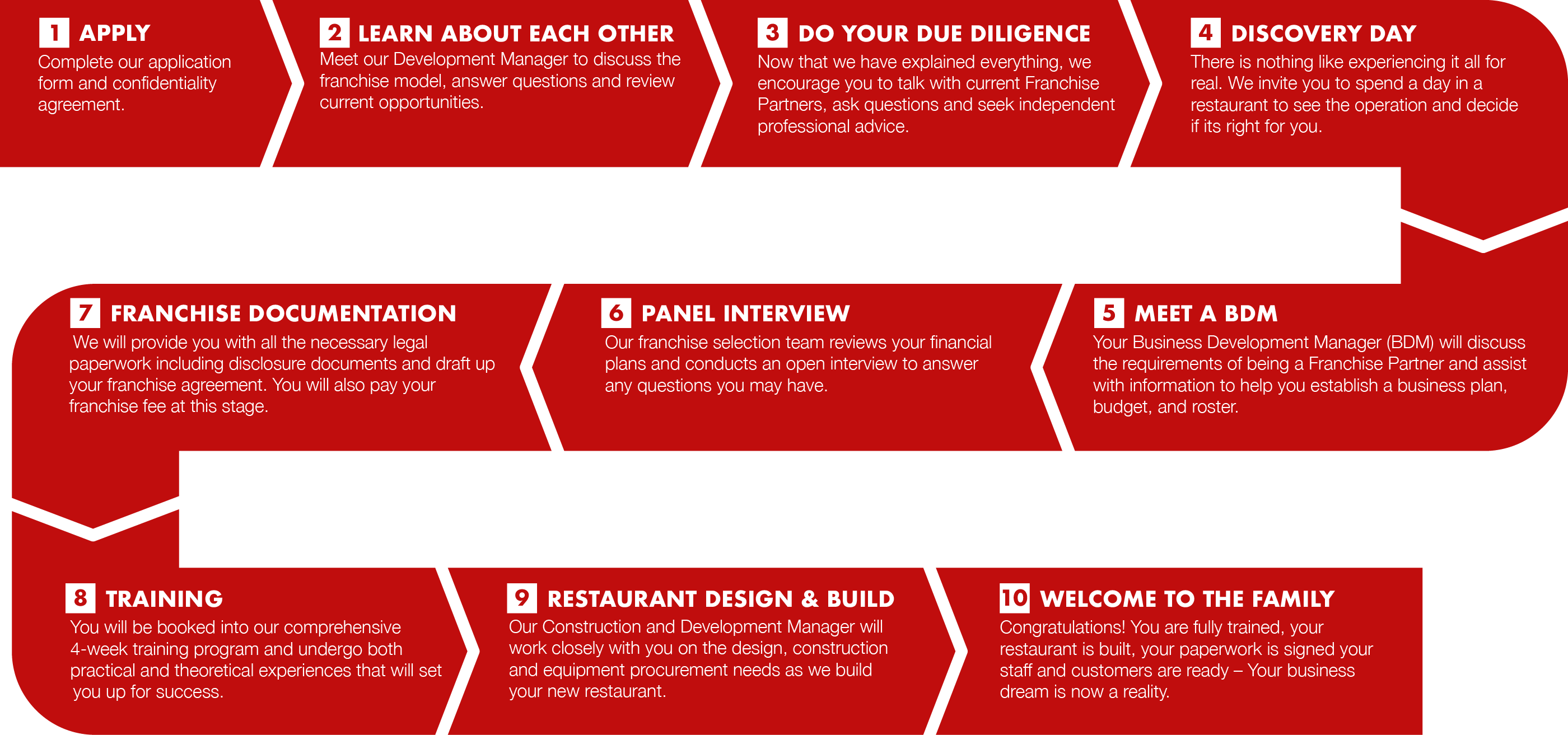 Business Conversions
Becoming a Franchise Partner with a multi-brand franchisor like Concept Eight offers many significant benefits to existing business owners.
You will receive genuine support and business improvement methods across operations, marketing, supply chain and how to have a profitable home delivery model. Ask yourself these questions:
• Is my business seeing less foot traffic and people ordering in store?
• Am I adapting to the change in the way's customers look for, and order food?
• Am I strategizing for long term sustainable success?
• How can I better market my business and embrace the delivery revolution?
• Can I benefit from the support of a business coach?
• Can I benefit from a national marketing and social media campaigns?
• Can I benefit from a company that are leaders in food retailing?
If you answered "Yes" to any of these questions, then we may just have the right solution for you.
Concept Eight Franchising
Are you searching for a franchise with an edge, a concept that stands out from the crowd, an environment and menu that will keep people coming back for more?