Concept Eight is the holding company behind successful QSR brands Noodle Box, Huxtaburger, Wokinabox, Pattysmiths, Dante's Hot Chicken, Southern Seoul, Supreme Leader, Alabama Chicken & Wings, Double Dragon Dumplings, Plant Patty and Nature's Wok.
Concept Eight is one of Australia's largest multi-brand franchisors and has over 25+ years' experience in the retail food industry. Established in 1996, the group now has over 200 franchises within its portfolio and continues to seek out great people to partner with as we open our innovative restaurant concepts across Australia.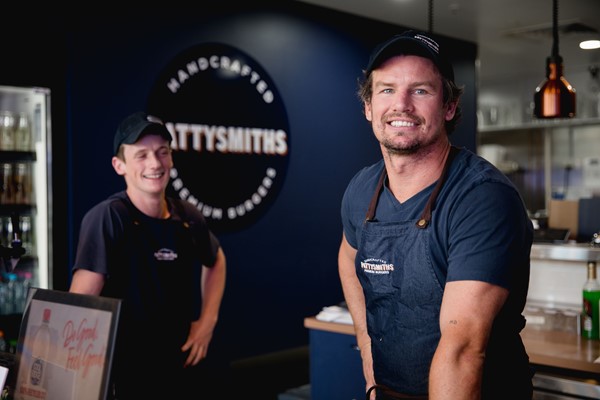 FRANCHISE SUPPORT
Concept Eight prides itself on providing its franchise network with world class support and as our company name suggests we offer "Eight" specialist support services:
Operations
Marketing
Training
Restaurant Design & Construction
Finance
Legal
Supply Chain
Network Development
INDUCTION & TRAINING
Before trading commences all new franchise partners are required to complete a expertly designed comprehensive induction and training program. Each franchise partner is trained by our experienced support centre team members.
The training provides a blend of theory and hands-on instore experience, and once you are up and running, our range of proven systems and procedures kick in to support the ongoing development of our franchise partners, restaurant managers and staff members.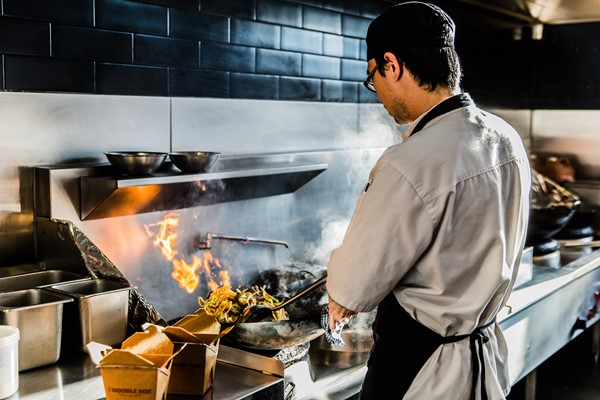 We have proudly launched a multi-brand online ordering and rewards digital app called 'Concept ATE Rewards' – the first of its kind in Australia. The app provides our guests with access to order from all of Concept Eight brands (subject to geographical location) for delivery or pickup and rewards you with loyalty points, special promotions and more.
FRANCHISE MODELS
 

Noodle Box

Pattysmiths

Southern Seoul

Huxtaburger


Restaurant Size 

70m2 – 90m2

100m2 – 120m2

100m2 – 120m2

150m2 - 200m2

Trading Hours 

11am – 9pm,
7 days a week

11am – 9pm,
7 days a week

11am – 9pm,
7 days a week

11am - 9pm,
7 days a week

Multi Branded 

Yes
Double Dragon Dumplings

Yes
Alabama Chicken & Wings

Yes

Yes

Set Up Costs* 

$400,000 - $500,000 + GST

$450,000 - $550,000 + GST

$450,000 - $550,000 + GST

$650,000 - $750,000 + GST

Franchise Fee 

$40,000 +GST

$40,000 +GST

$40,000 +GST

$40,000 + GST
YOUR SET UP COSTS INCLUDE
Location discovery, assessment and lease negotiations
Project facilitation - Restaurant design, build and fit out
All plant, equipment and small wares
Business support and proven operating procedures
National and local marketing campaigns
A comprehensive induction and training program
National purchasing power
Supply chain and vendor management
Strategic partnerships with delivery aggregators
Customer loyalty program
Online ordering and dedicated website
Legal costs
Multi-branded concept
BRAND ADDITIONS
Each primary brand will come with at least one partner brand addition with no extra set-up costs required. Further partner brand additions can be made available depending on the restaurant's size, location and operational capability.
Double Dragon Dumplings
Supreme Leader Korean Fried Chicken
Dante's Hot Chicken
Alabama Chicken & Wings
Wokinabox
Plant Patty
Nature's Wok
FRANCHISE PARTNER APPLICATION PROCESS
We will guide you through a structured application process and the timing through to the opening of your franchise may take anywhere from 3-6 months.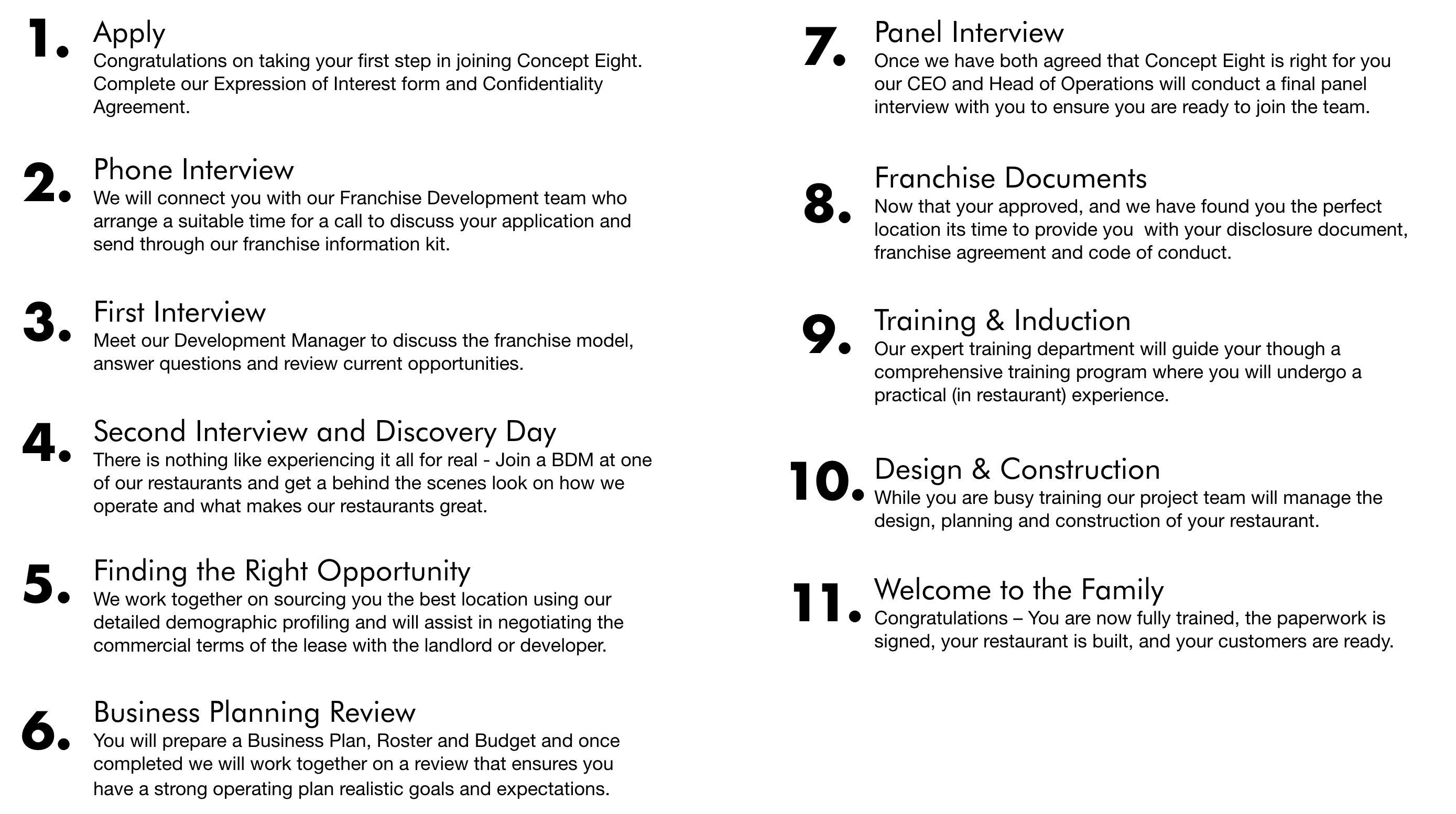 FRANCHISE PARTNER PROFILE
As a Concept Eight franchise partner, you are ultimately responsible for your own success and to ensure this we are looking for a commitment to devoting your time and attention to your restaurant throughout the entire journey.
In our experience the best franchise partners are the ones that work full-time, hands-on in the restaurant and provide leadership to the team.
Aside from financial standing, other key attributes we look for are:
A positive attitude
Excellent communication skills
A commitment to outstanding customer service
Hard working and appetite for learning
A willingness to work within proven systems, procedures, policies and guidelines
The ability to motivate and coach a team
Know how to have fun and celebrate success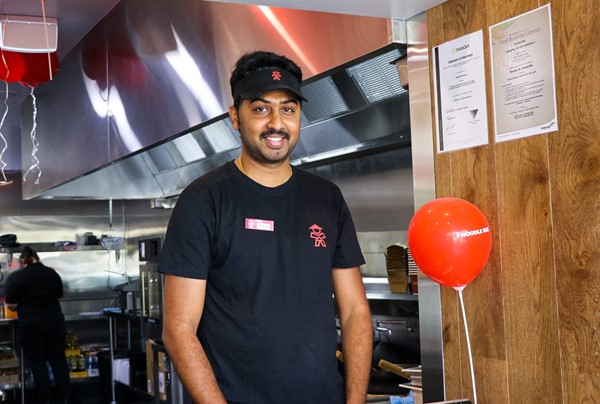 What kind of returns can I expect from running a Concept Eight franchise?
This relies on the growth and profitability of the business under your ownership, and therefore we cannot predict or guarantee what your returns may be. As a new franchise partner it is important to have realistic expectations on the initial income so we will provide you with a financial planning guide to assist with your preparation of a business plan and budget forecast.
Do I need cash or equity towards the purchase of a franchise?
Yes, you will have access to at least 50% of the purchase price of the business. You may have this in actual cash, funding from family and friends, equity in your home/ investment properties or a combination of all of these. Please be aware that we will request proof that you have access to these funds throughout the franchise recruitment process.
Do I need prior business or food industry experience?
No. Whilst previous experience in hospitality or managing a retail business is a great advantage and the preferred way to becoming a Franchise Partner, our extensive training program and years of experience will support you across all facets of the business.
Am I required to work in the business?
Yes. We are an owner/operator franchise system, and we do have an expectation that our franchise partners maintain 100% ownership in the operating company and are working full-time in the restaurant.
Does Concept Eight provide financing?
Concept Eight is accredited as an 'Approved Franchise System' with two equipment finance providers who can offer various finance options and packages for franchise partners who qualify. Alternatively, you are free to obtain financing for the purchase of the franchise from the source of your choice.
Do I have to be an Australian Citizen or Permanent Resident of Australia to own a Concept Eight franchise?
Yes, you will need to hold either Permanent Australian Residency or be an Australian Citizen to purchase a franchise through Concept Eight
What is the expected timeframe to open my Franchise?
After finalising your approval to become a franchise partner the next steps are to complete the location assessment and lease negotiation. From there its onto design, layout, and construction of the restaurant and your training. This process can vary but on average is between 3 – 6 months.
Concept Eight Franchising
Are you searching for a franchise with an edge, a concept that stands out from the crowd, an environment and menu that will keep people coming back for more?